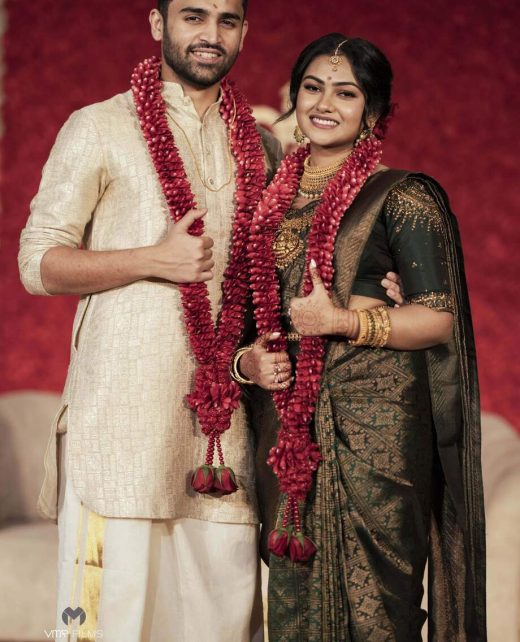 We make any idea and wish come true
Welcome to VMP Films
Your Perfect Wedding Photography Partner!
What We Offer:
Our services encompass the entirety of your wedding journey. From the engagement shoot to the pre-wedding festivities, the grand wedding day itself, and even post-wedding celebrations, we are there to capture it all. Our team of skilled photographers is experienced in various styles, from traditional and classic to modern and avant-garde, ensuring that your photographs are a true reflection of your personality and style.
Why ChoosE us
Best Wedding Photography In Kerala
Choose VMP Films for your wedding photography and videography needs, and let us illustrate why we're the ideal choice
Visual Storytelling
We go beyond capturing moments; we craft compelling visual narratives that encapsulate the essence of your journey.
Meticulous Detail
Our team is dedicated to capturing even the smallest details, ensuring no aspect of your special day goes unnoticed.
Emotional Connection
Through our lens, we capture genuine emotions, allowing you to relive the feelings and joy of your wedding day.
Expertise & Experience
With years of experience, we bring a wealth of knowledge to every shoot, ensuring high-quality results every time.
Innovation
From traditional poses to creative angles, we blend timeless techniques with innovative approaches to create captivating imagery.
Comprehensive Services
Whether it's pre-wedding excitement or post-wedding bliss, we offer a wide array of services to cover every moment.
Drone Capabilities
Our drone photography and videography add a unique and stunning perspective to your memories.
Passion & Dedication
We are passionate about what we do, and our dedication shines through in every frame we capture.